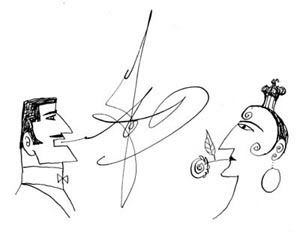 When I was growing up, there weren't a lot of art books in our house. Don't get me wrong -- my parents are both smart people and there were tons of books around, it's just they were heavy on words and short on pictures. Besides feasting my eyes on the photos in
National Geographic
, I spent long hours sifting through the books on our shelves looking for the ones that had pictures, not just big, complicated words. (The abundance of books-with-words probably does account for why I was reading
Slaughterhouse Five
and
The Communist Manifesto
in seventh grade. But, I digress.) Anyway, one of the few books we had that contained almost only pictures and no words was a big, fat collection of the drawings of Saul Steinberg, the legendary illustrator for the
New Yorker
amongst countless other publications. When I discovered the book at age 7 or 8, I remember considering it as no different than any other picture books aimed at children, and just enjoying the whimsy and imagination of all his illustrations.
So, imagine my glee to discover he currently has not one, but two retrospectives currently here in New York. One, titled "
Saul Steinberg: Illuminations
," is at the Morgan Library through March 4, 2007, and features over one hundred drawings, collages, and sculptural assemblages; the other, titled "
A City on Paper: Saul Steinberg's New York
," is at the Museum of the City of New York, with a more New York-centric approach, through March 25, 2007. I won't be able to check either out til I return to New York in 2007, but I'm excited to see some of his stuff up close and original. In a world that's increasingly filled with so computer-generated work (from Photoshop to its impact in graphic design), it's really nice to get 'back to basics' and see what can be done with a piece of paper and ink.